ABOUT US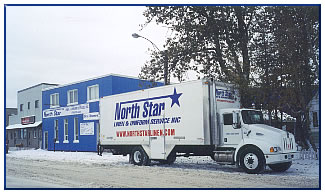 We are celebrating over 60 years of servicing the North!
North Star Linen began as "Kapuskasing Laundry" in 1950.

In the 70's, the name was changed to North Star Linen & Uniform Services Inc. Our business began to grow and now has two locations in Kapuskasing and depots across the Northern Region. Our routes cover Longlac, and White River. We also service Kirkland Lake, the Tri-Towns and we schedule daily trips to Cochrane, Hearst and Timmins.
North Star Linen is a well known commercial laundry and rental supply leader in this region.
We have a geographic presence throughout Northern Ontario and have the capability to service any size of business or industry.
North Star Linen & Uniform Services Inc. is family owned and operated.
Leo Paul Belanger is the President. His two sons, Luc and Michel, are company directors. Luc manages operations in the plants and Michel manages sales on the road and coordinates a staff of six drivers covering the Northern Region.
We are well experienced, knowledgeable and committed to serving our clients.
Motivated by the long-term success of North Star Linen, we will continue to expand our product base and services in the future.
North Star Linen works with such companies as Falconbridge, Tembec, Spruce Falls, Agrium, and Kinross Gold Mine in helping project a consistent and professional image to their customers.
Thank you for your interest in North Star Linen!
We look forward to receiving any questions you may have about our company and services.
For more information call 1-800-461-5756 or contact us at uniforms@northstarlinen.com.